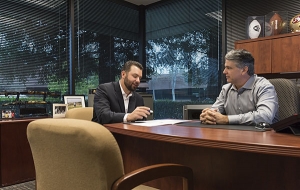 Occlink is a workers compensation program evaluation and analysis service. The primary focus is on self-insured or high-deductible employers.  
Combining extensive industry experience, strategic solutions and expertise in the complexities of claims management, Occlink can help your workers compensation program operate more efficiently and affordably. Occlink services include:
Positioning Assessment
Program Structure Analysis

Self-Insured, High Deductible & Guaranteed Cost Comparisons

Retention Review

Claim Control Strategies

Independent Claims Audit

Cost Containment Solutions

Training & Education

Vendor Network Management & Resources

Assistance with Policies & Protocols
Independent Program Analysis
Solutions to aid in configuring your workers compensation program

New structure & methods to take control, save money, reduce fraud & simplify employee injury cases
Expert personnel
Up-to-the-minute information systems
Proven protocols
Efficiencies improved; unnecessary costs avoided
Thorough, unbiased opinions
Vendors including TPAs, medical providers and others
High Performance Results
Savings of 50% – 85% in workers compensation program costs
Shorter claim life cycles
Reductions in claims
Dramatic improvements in interactions with service providers
Staff credentials
Combined management experience of more than 100+ years, with expertise in claims, statutes, labor laws, underwriting, administration and corporate structure. Think of Occlink as the "supporting cast" to your existing structure.
Deliverables
Analysis of claims data from inception

Statistical trend evaluations & customized recommendations

Assistance in improving program efficiency, organizing file information & establishing approval and third-party vendor protocols

Analysis and research (working with your staff) to improve provider protocols & contracts

Actively engage in claims reviews

Review & analysis of internal resource & external provider performance

Reduced costs and improved profit margins for your business